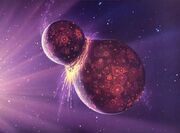 An Introduction to Prehistory...
Prehistory, is the vague reference to all of Earth's time, before human beings became distinctly civilised, around 10,000-5,000 years ago. What we know of as History, is a very small length of time indeed, when compared with Prehistory. Prehistoric Earth, began roughly 4,567,000,000 years ago (or more easily, 4.567 Billion Years Ago) Prehistory as an entity and metaphor of the millions of years that it stands for, should well be recognised as holding the most importance for all modern day organisms, and as a crucial basis for us humans to be able to understand ourselves. This is an undervalued mantra, seeing as many peoples ideas and imaginations of Prehistory, involves pretty much only what they have been fed by the heavily distorted media......
Ad blocker interference detected!
Wikia is a free-to-use site that makes money from advertising. We have a modified experience for viewers using ad blockers

Wikia is not accessible if you've made further modifications. Remove the custom ad blocker rule(s) and the page will load as expected.